This year marks the start of Franciscan education in Kedron, Queensland.  The Missionary Franciscan Sisters arrived in Brisbane on a particularly hot day in January 1930.  They had travelled by ocean liner from the United States where the four Irish Sisters had been involved in education.
Just two weeks after there arrival St Anthony's Catholic Primary School began the first year of primary education for local Catholic students.  The school began in a building which is now within the campus of Padua Primary College which is operated by the Franciscan Friars. In 1956 Padua Secondary College and Mt Alvernia College were opened by the Franciscan Friars and Sisters respectively to allow the students of St Anthony's to complete their education within the parish.  The three schools, St Anthony's, Mt Alvernia, and Padua, work collaboratively in many areas.  With the Parish they form FOTH – Franciscans on the Hill.
The celebration of the 90 years of the Sisters presence in Australia was celebrated earlier in the year, but unfortunately the special celebration for St Anthopny's School set for Catholic Education Week had to be cancelled a number of times amid the Covid-19 restrictions.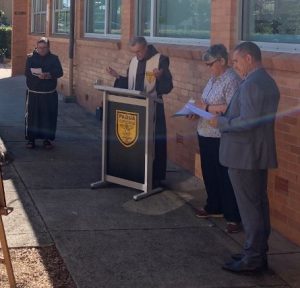 Yesterday a small group gathered to bless, the plaque to mark the milestone,  to give thanks for the blessings received over the past ninety years, and to pray for God's blessing on the continuing mission of education in the parish.
Present at the event were Friars Mario Debattisa (Parish Priest) andJoe Mackay; Sr Catherine White mfic, Australian Leader of the Missionary Franciscan Sisters; Mr Peter Elmore (Rector of Padua College) and  Mr Michael O'Brien (Vice Rector Padua College: Formation); Mr Martin Wilkie (Principal of St Anthony's School); and two students from each of the schools.