Our Founders
St Francis of Assisi
St Francis lived in the Umbrian town of Assisi in Italy circa 1181 – over 800 years ago.  Francis was born of wealthy middle class parents and lacked nothing as a young man.  Francis was known to have relsihes living an indulgent life, full of partying and drinking, singing the love ballads of the days, and playing about with his many friends. renowned for drinking and partying in his youth. He was induged by his father, a cloth merchant, who was happy that Francis mixed with thge sons of the noble classes.
Francis was something of a romantic who dreamt of becoming a knight and going into battle in the finest armour, mounted on a wonderful horse.  After fighting in a battle between Assisi and Perugia, Francis was wounded, captured and imprisoned. He spent nearly a year in prison awaiting the payment of a ranson to secure his freedom.  After returning to his home Francis topok many moinths to recover from the ordeal.  Soon Francis was able to return to his previouos carefree life, and arrayed in fine armour he left Assisi to join the army of the Count of Brienne, and so join in the Crusades in the hope of securing glory and victory.
However, while on the orad a vision challenged his view of reality so that he could see that the master he was called to serve was God and not an earthly Lord. He swapped his expensive armour for the poor attire of an impoverished knight and returned to Assisi and to lose interest in the life he has previously known.   Francis began receiving visions. In a dilapidated chapel in the countryside near Assisi Franc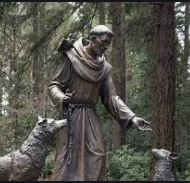 is  Francis heard the voice of Christ, who told him to repair the Christian Church. Consequently, he abandoned his life of privilege and, dressed in the robe of a beggar, Francis gave everything he had to the poor so that he could be free to follow Christ.
He had a vision of creation that recognised the inter-relatedness of all creation and sought to build a community in which all would flourish. Francis embraced every person he met with respect and gentleness, but he had a particular love for the materially poor and those marginalised in any way.
Francis called the elements, fire and water, wind and air, sun and moon, his brothers and sisters. He rejoiced in all of God's gifts, especially in the beauty of creation, and in every animal, plant and human person.  St Francis was a man of peace and reconciliation. Even in the midst of the crusades he reached out in friendship and peace to the Sultan Malek el Kamil, leader of the Muslim army.
Many people know a prayer thought to be attributed to him, but which is now known to simply reflect something of his spirit: The Peace Prayer of St Francis.
Elizabeth Hayes
Elizabeth Hayes was born in the Guernsey Islands to genteel parents.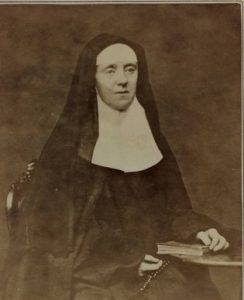 Within her family were Anglican clerics, teachers, and renowned Oxford Church musicians. As a young woman she travelled to England and began to work in a school and shelter for poor woman in Wantage. In the mid-nineteenth century during the Oxford Movement, Elizabeth Hayes left her life as a sister in the Anglican Church in England to embrace Catholicism. Through a life of prayer and reflection, Elizabeth came to know and trust the Spirit of God within her.
She received her initial formation in the penitential lifestyle of Francis from the Franciscan Sisters, Glasgow, Scotland. On November 26, 1859, as Sister Mary Ignatius, Elizabeth made her total commitment to Christ. In addition to the vows of poverty, chastity and obedience, she made a fourth vow to dedicate her life to the foreign missions. She was ready to leave home and country to reach out to all people wherever she saw a real need. It was this vow that led the future founder to begin her pilgrimage from Glasgow to Jamaica, to Paris, to Rome, to Versailles, to St. Thomas Island, to Boston and finally to Belle Prairie, in 1873. Within years she has established schools, a novitiate, and a printing press to establish the first Franciscan journal to be published in English.
From there she turned her attention to the black population of the South, who at that time, were the most underprivileged, deprived and humiliated inhabitants of the United States. By the summer of 1879 a small community of nine were ministering on the Isle of Hope, Diocese of Savannah, Georgia. In obedience to the Pope, she established a novitiate in Rome, an action that reflected her belief that our mission was not confined to the peoples of any particular race or country but that it was to extend to the universal Church.
The Legacy of Elizabeth Hayes
Elizabeth Hayes had a profound respect for the Franciscan Rule, believing that it essentially expressed the Gospel of Christ. She knew that her institute of Missionary Franciscan Sisters of the Immaculate Conception, unlike many others claiming to be Franciscan at the time, was firmly rooted in a tradition that could be traced back to St Francis of Assisi. (Francis founded his Third Order in 1214.) The family tree links Angela of Foligno, the Grey Sisters at Comines and later at Tourcoing (France), through to the Glasgow Franciscan Sisters (founded from Tourcoing in 1847). These Glasgow sisters trained Elizabeth in the Franciscan way of life, and sent her to their Jamaican mission. This rich legacy blossomed again through Elizabeth in late 1872 in Belle Prairie, Minnesota.
Elizabeth's writings urged her readers to be led into a deeper experience of God's love, and into the following of the example of earlier Franciscan Saints. She knew, and was also inspired by holy contemporary Franciscans. Elizabeth handed on to her followers special devotion to saints such as Anthony, Francis, and Clare. Many founders are associated with a particular place, but Elizabeth's vision was trans-Atlantic. She modelled her dream of an international sisterhood and established her motherhouse in Rome. Elizabeth did not lock her sisters into one ministry, but showed by example that a variety of ministries was desirable, so long as they responded to peoples' needs at the time. Besides the strong commitment of the last twenty-one years of her life to the 'propagation of good books' and Franciscan Journalism; she previously paved the way for ministries in education, foreign missions, assisting migrants and reaching out to the poor and needy.
Risk-taking was part of Elizabeth's agenda; and she has passed on to her followers a desire to face the realities of life in bringing about God's reign. In the nineteenth century she was aware of the need for lay associates; and through her monthly illustrated periodical, called the Annals of Our Lady of the Angels, she provided laity, as well as religious readers, with spiritual and entertaining reading. Many women who founded religious communities depended on a male figure to speak on their behalf, but not so Elizabeth Hayes. As an intelligent and well educated Guernsey born woman she saw herself equal to men, and was respected by them. She was once described as a commanding woman, but not a demanding one. An often over-looked legacy that she gave to North America is her achievement of bringing to that country the first Poor Clares, who stayed to found what is known today as the Mother Bentivoglio Federation.
By Sr M.Francine Shaw MFIC PhD