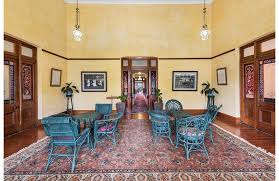 THe MFIC Sisters announced today that their popular retirement village in one of Brisbane's most historic Catholic precincts will be transferred by its founding Sisters to leading not-for-profit aged care provider Ozcare next month.
The picturesque Delamore House (circa 1890), nestled on the hillside in Kedron's "Little Flower" Parish, has belonged to the Missionary Franciscan Sisters of the Immaculate Conception (mfic Sisters) for the past 85 years.
Delamore House and the retirement village, Delamore Retirement Community, which was constructed more than 30 years ago, is to be transferred to Ozcare.
Sister Catherine White,  the Australian Leader of the mfic Sisters, said the missionary work of the Sisters, which has spread worldwide from its base since 1935, will continue.
"We have been a missionary group and Delamore has been the place from which the Sisters went out since the very beginning," Sr Catherine said.
"Our first mission went to Papua New Guinea in 1949 and over time we have had Sisters travel to China, Latin America, England, Italy, and Egypt.
"It is our leadership hub and the foundational headquarters from where we have gone out to mission for so many years.
"Delamore Property was too big for our needs in the 1980s and so the Sisters asked the Archbishop at the time what the greatest need would be.  He said it was aged care. Since 1990, it has been home to a growing number of retirees, including the Sisters.
"The Sisters are ageing and reducing in number and I feel very strongly that the 60-plus residents who live here have put their trust in us, which is why we have taken so much care to find for the next step for Delamore."
Sr Catherine said Ozcare, a special work of St Vincent de Paul Society Queensland, shares the same values as the Sisters and is dedicated to caring for those in real need.
"We are confident that Ozcare is the right organisation to take stewardship of Delamore," Sr Catherine said.
Sr Catherine said the transfer of Delamore to Ozcare would take effect on February 28.
Ozcare's Chief Executive Officer Tony Godfrey said the organisation was honoured to be entrusted by the Sisters with ensuring the longevity of one of Brisbane's most significant spiritual precincts.
"We believe our organisation is strongly aligned with the values of Delamore Retirement Community. The spirit of Delamore; warm smiles and good friends and the mission of the mfic Sisters; to help people in need, reflects Ozcare's Catholic ethos and our commitment to caring for our community by making a positive difference in the lives of the people we support," Mr Godfrey said.
"Ozcare is privileged to continue the 32-year legacy of Delamore Retirement Community and we are dedicated to ensuring that the esteemed reputation of the mfic Sisters and the spirit of Delamore continues."
For further Information contact: Ainsley Pavey, 55 comms, on 07 3041 1115 or 0417792212 / ainsley@55comms.com.au