In July Sr Maureen Andrews left the small outback town of Cunnamulla where she has been stationed for  ten years as Pastoral  Leader for the parish and social worker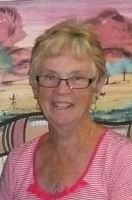 in the local hospital.
Prior to her appointment to Cunnamulla Sr Maureen had served in a number of rural towns including Port Augusta, Dysart, North Rockhampton, Emerald, and Goondiwindi.  Her rural ministry of eighteen years was punctuated with a 4 year term as Australian Leader.
Sr Maureen has retired to Bribie Island where she hopes to enjoy the more favourable conditions for gardening and engage in her various crafty hobbies. She is accompanied by a tiny Australian Terrier named Minnie.