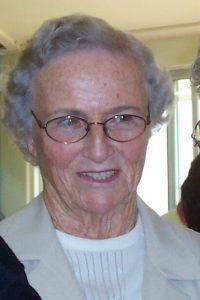 Sister Elizabeth Prendergast mfic (Sr Mary Leocadia)
Birth: 31st August 1924.  Death  30th July, 2021
Hanora Elizabeth Prendergast was born on August 31, 1924, twenty minutes after her twin brother John.  She was the youngest of the 6 children born to John & Mary (Lonergan) Prendergast of Clonmel, Co. Tipperary, Ireland.
When Betty (as her family called her) was just 18 months old, with unemployment high and a young family to support, her father left Ireland to find work in America.  Betty's mother stayed behind to care for her ailing mother and the children with the promise to join her husband when the mother passed on.  Unfortunately, Betty's mother, Mary, passed away in 1931 before the family could emigrate to America.   After her mother's passing, all the children, except Betty, were sent to orphanages in Clonmel.  Betty was considered too young to be sent to an orphanage and instead was sent to live with her father's sister Mary. At just 16 years of age Betty entered the Missionary Franciscan Sisters.  Her older sister Joan also entered the convent and was known as Sr M Caroline.
In spite of the early separation due to their mother's death, the Prendergast children and their families remained close throughout the years.  They corresponded regularly and visited when possible, which was quite often given the distance between them.   (Kathleen married and lived in England, Dick lived in England until his death in WWII, Mary & John moved to California. and Joan spent most of her time on the East coast of the United States in New York and New Jersey).  As a child I remember several long visits with Auntie Betty at our home in California often with other members of the family.
Aunt Betty has made such a positive impact on so many lives and is beloved by her family and friends.  We are very proud of her and blessed to have her as part of our family.
(Written by Sr Liz's niece Patricia Martig.)
Sister Elizabeth, or Sr Liz, as she was known, entered the MFIC Sisters in Bloomfield Ireland in 1940. She was one week shy of her 16th birthday. At that time, because of the war, the novitiate had been moved from Rome to Bloomfield.   Sr Liz made her first profession of vows in 1944 after which she was missioned to Australia.  In 1945 Sr Liz travelled with Srs M Martinian and Quentin on the ship Nestor, a long voyage of around 3 months.
Sr Liz ministered for 30 years in primary education in the Archdiocese of Brisbane. Her first appointment, in 1946, fresh from her native Ireland, was St Joseph's School Bardon.  After two years at Bardon, Sr Liz then moved to Coorparoo where she taught for 10 years. This appointment was followed by a second ten-year teaching appointment at St Anthony's in Kedron.  In 1968 Sr Liz embraced the role of school Principal at Coolangatta, followed by two years at Kedron and a year at Coorparoo.  She served as Principal at Infant Saviour Primary School at Burleigh Heads for 4 years.
In 1976 Sr Liz, a deeply compassionate woman, began a second ministry in pastoral care which lasted for 25 years. She completed a rigorous CPE training in 1976/77.  For 23 years she ministered in the community at Burleigh and Coolangatta in the South Coast region. She visited parishioners and others in their homes, in aged care and in hospitals, did catechetical work in the parish and was devoted to keeping the sacristy functioning well.  She also visited the caravan parks the lined the foreshore. She had great compassion for anyone who suffered in any way and she was very concerned with those who faced financial challenges and difficulties. The parish supplied her with a small budget which she used to assist struggling members of the community and school.
During this time she also served as a Lifeline counsellor for many years.  Following a year sabbatical in New Zealand in 2000, Sr Liz moved to Toowoomba where she again embraced a ministry of pastoral care. Liz served in the Diocese across a number of hospitals, residential aged care facilities, and a local Mental Health hospital. She supported her local parish with the care of the alter linen, flower arranging and some office tasks such as folding newsletters.
During these long years of service years Sr Liz completed more training courses than it is possible to list.  These included a Lifeline training course for telephone counselling, a Certificate in Pastoral care and at 80 years old, an Aboriginal and Torres Straight Mental Health First Aid Course, a Certificate course in Mental Health Pastoral Care.  During her years of pastoral ministry Sister Liz received a number of significant community awards.  Among her papers we found a cache of thankyou certificates from Lifeline for her years of service to their telephone ministry.
A part of her ministry included her care of the sacristy in a number of parishes.  She ironed the linens to perfection, provided beautifully arranged fresh flowers for funerals, Masses and weddings, and ensured that all was in readiness for any celebration.
In 2010 Sr Liz's pastoral ministry came to a sudden end after an unfortunate accident in which a wardrobe door fell on her. She spent some time in hospital but as there was no clear diagnosis for the ongoing debilitating pain. Sr Liz asked to be transferred to Brisbane to the Sisters' aged care residence.  It was only after this move that a follow-up scan showed she had sustained fractures to her hip and a number of vertebrae in the accident.
While her return to Kedron provided her with security and senior friendly accommodation, life in community was decidedly duller than she liked. Sr Liz was used to being out and about, meeting people, serving many, and accepting invitations to a wide variety of celebrations. It was not surprising that following her move from pastoral ministry Sr Liz became withdrawn and depressed.  She seemed to find retirement a burden rather than a release. She keenly missed the opportunities she had to mix with a wide variety of people in her ministries, and she missed the outings with her many good friends who were now in places at a distance to her.
However, she still came alive when social events provided her with an outlet, and her weeks were brightened by the many friends who regularly visited from the South Coast and Toowoomba. Sr Patricia Treacy regularly visited her with her little dog and often escorted her to a local tavern for lunch and a flutter on the pokies.
Perhaps it was the experience of loss in her early childhood that enabled her to touch the pain and suffering of others and which led her to grieve deeply the loss of all of her siblings over the years.  She remained in close contact with her family overseas.  She greatly looked forward to and enjoyed the regular visits by her niece Patricia and her husband Ken from Seattle in the US. She was also close to her niece Moira and family.
We remember Liz as a woman of great energy and service. She had the ability to connect with people of all ages and stations in life. She was tireless in service of the lonely, the needy and the grieving.  She was loyal to her many friends and they remained loyal to her. Many will grieve her passing and we have no doubt that the memory of her generous service will remain in the communities in which she served.
May she rest in peace and whisper our names in heaven.
Catherine White mfic
Australian Leader.