Minnesota:
In 1851 white settlers had come to northern Minnesota, in 1852 Rev. Francis Pierz arrived to serve the Chippewa Indians and European migrants and by 1872 the Catholics at Belle Prairie were served by German-born Fr. Joseph Buh. In that year, on 6 September in New York, Elizabeth (Mother M Ignatius) Hayes and Daniel Mason (from Belle Prairie) signed a deed that allowed Hayes to purchase ten-acres beside the St. Paul Northern Pacific Rail Road in Belle Prairie. Later Hayes was to purchase land, on the opposite side of the train line, which was beside the church and reaching down to the Mississippi River. It was on this site that Sr M Ignatius Hayes and Sr M Clare Peet first lived in a log cabin, then within months where Hayes build her first wooden convent-school with its purpose designed printing room.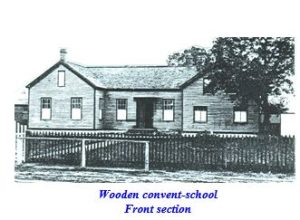 Hayes took advantage of Minnesota's newspapers to announce that St. Anthony's Academy for young ladies, offering an impressive curriculum and proposed boarding facilities, would be opened at Belle Prairie on 1 January 1873. In July Hayes travelled to the West Coast to obtain financial assistance on the Californian gold fields and to visit the old Santa Barbara Mission where she met with Fr. Jose M. Romo, the community's Guardian.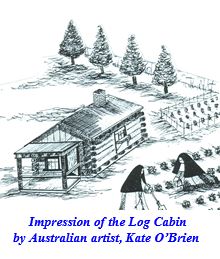 This significant meeting confirmed Hayes' resolve to proceed with her plans to move into the lively and highly competitive world of the periodical press. Romo 'urged' Hayes to proceed as there was no Franciscan periodical printed in English anywhere. Brainerd, a rail road town twenty-eight miles north of Belle Prairie, was expected to become one of Minnesota's major centres. Hayes opened and directed a school there on 25 November 1873 at the corner of North 10th and Main (now Washington) Streets. However, the school closed the following February because the Lake Superior and Puget Sound Company refused Hayes' request for property in block 131. The most important outcome of her venture was her meeting with the town's newspaper printer, Morris C. Russell, who became the first printer of Hayes' Annals and the Sisters' strong supporter.
The Annals rolled off the Brainerd press successfully for eighteen months then there was a pause in the printing, the only one over twenty-one years, to allow Hayes to be busy in Europe. She renewed old acquaintances, visited the Franciscan Minister General in Rome, discussed plans for a Belle Prairie chaplain and sought tirelessly to gain more Sisters for the Belle Prairie community. After sixteen months with many trials and difficulties, including the frustration of dealing with Rome's Cardinal Vicar and a Minister General who feared sending two volunteer Poor Clare nuns to Minnesota, Hayes with these Bentivoglio blood sisters, Maddalena and Constance, plus a Franciscan friar, finally crossed the Atlantic and returned to New York. However to her great disappointment, the intended chaplain lost heart for the West, which in turn caused the two Poor Clare nuns to feel obliged not to proceed to Belle Prairie with Hayes.
 Hayes still needed recruits so, in the spring of 1876, she travelled to Montreal and later five young women received the habit of St. Francis. The training of more new members, solicitude for the academy, the opening of a new chapel, the development of the self-supporting farm and concerns over local vandalism, prevented Hayes from returning to her editorship until preparations for the January 1878 edition of the Annals.
Augusta, Georgia:
The Annals were being printed by the Sisters in 1878. Hayes was planning to establish a branch house in Augusta, Georgia, where assistance could be offered to children of emancipated slaves. Hayes was in communication with Indiana's Notre Dame University Press through Br. Stan Clarke whose printing experience lessened the challenge of transferring the printing of the Annals to the South. The Augusta foundation included the opening of an industrial school for youth where printing was included. In 1879 Hayes not only opened another house and school on the Isle of Hope, Savannah, assisting many Protestant Afro-American children, but was busy also with extensions in the Augusta complex. The establishment of a novitiate kept Hayes very busy but by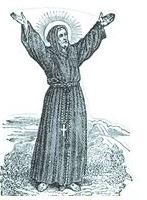 December 1880 she and Chaffee set off for Rome with the intention of establishing a Generalate there. The task involved a period of seven months yet the Annals publication was uninterrupted, and before the year was ended Hayes was back in the USA. She then returned to Rome to take up permanent residency on the Via Alfieri. In the same year Hayes also planned for a house in her beloved Assisi which would be close to the Chapel of Our Lady of the Angels. Young Italians asked to join so that in the following year more women received the habit of St. Francis in her community.
Illustration to left.St Francis by Alexander Deberny of Paris. Selected by Elizabeth Hayes for her Annals.
Rome:
The year 1883 witnessed the transfer of the printing of the Annals to Rome and early in the summer of 1885 the business of the institute required Hayes to cross the Atlantic again to New York, Belle Prairie, Augusta and also to Montreal. In Belle Prairie there were difficulties and, among the Sisters, increased opposition to a Generalate in Rome. Her visit lasted six months and when she returned to Rome, ten prospective members accompanied her. The Belle Prairie situation worsened, the Sisters in Augusta, aware that Bishop Becker preferred religious who were directly under diocesan control, consulted with him, and then requested separation from Hayes' institute.
In 1887, Hayes also opened a convent in Naples for sick Sisters, guided the profession of fourteen young members and worried over the unrest among her Sisters in America. Hayes wanted to visit America again but was prevented because of ecclesiastical pressure on her to open another Roman establishment. The following year Hayes opened the Testaccio Convent beside the River Tiber. This same year Hayes established a Confraternity in relation to theAnnals and transferred the Generalate to Villa Spada on the Janiculum Hill. Villa Spada, an impressive building, was to become a source of great anxiety because of the legal problems that evolved due to corrupt contractors.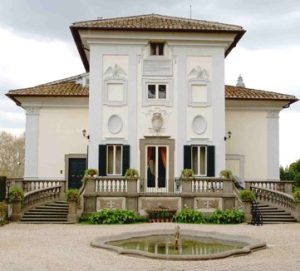 For Hayes, 1889 brought great suffering for in April adversaries of the Belle Prairie Sisters set fire to and completely burnt down the convent-school buildings. The Sisters and their pupils escaped. By November the unrest among her Sisters in America increased. Hayes consulted with Archbishop Ireland and he advised her not to rebuild in Belle Prairie. Without Hayes' permission a group of Sisters from Augusta left their convent, went ahead with their own plans to join the Sisters in Minnesota and soon the new bishop, Dr. Otto Zardetti, was involved. Zardetti's behaviour reflected a revised anti-foreigners attitude in the US. At first hesitant, he recommended that the Belle Prairie Sisters shake off Hayes' authority as Mother General in Rome and encouraged the Sisters to separate, remain Franciscan and establish their own diocesan autonomy.
This situation was not unique to Hayes' community; the Sisters of St. Joseph of Carondelet had a similar experience with bishops encouraging the idea of creating an independent American identity. Archbishop John Ireland advised Hayes in 1889 to give American houses Provincial autonomy. However Hayes, perhaps because of her small numbers or her aversion to splinter groups, remained committed to centralised government. 1890 brought with it a lawsuit over Villa Spada,   [ Villa Spada (Pictured above right) was the Generalate from 1888 – 1895. It is now the Irish Embassy to Italy and sits on Janiculum hill. ]  acceptance of the bitter disappointment over the separation of the American Sisters and financial difficulties with declining Annals subscriptions resulting from the unrest. Hayes was not left alone in these difficult days for, according to Chaffee, Cardinal Vicar Parocchi, came to lend support.                                                                                                                                                                                                                                                                                                                                                                                                                                                
 Young women continued to join Hayes but by 1891 her numbers in Italy counted only twenty-five professed sisters and four novices. Sr. M. Anna Flannery alone returned as directed by Hayes from America and later led a new group of Annals distributors to America. In Rome with Hayes still as editor, the printing, stitching, binding and dispatching of the Annals continued. Hayes during this period had been required to produce much official paper work for the Vatican and it showed not only her integrity but also her outstanding talent for writing.  Hayes (Sr M Ignatius) was assisted in the Annals' production by others including Angelica (Sr M of the Angels) Chaffee and Adzire (Sr M Columba) Doucette.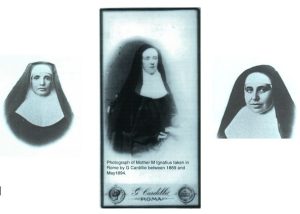 Angelica  Chaffee (left) Elizabeth Hayes (centre)  and Adzire (Sr M Columba) Doucette .
In 1892 Hayes watched the growth of the institute but still suffered from the disagreeable consequences of the American separation. In June 1893 Hayes left Rome for Naples enroute to New York but severe sickness prevented her from travelling across the Atlantic again. Early December found Hayes back in Rome to celebrate one of her favourite Marian feasts, the Immaculate Conception but the days of her personal missionary endeavours were drawing to a close.
Death approached for Hayes in 1894 and on 6 May her Franciscan leadership role, as well as her editorship of the Annals, was assumed by her faithful companion and former secretary, Sr. M. of the Angels Chaffee. Without Chaffee's recorded memories, told briefly in the 1894 Annals and later in greater detail, much of Hayes' extraordinary trans-Atlantic life would have remained unknown. So many experiences in Hayes' life prepared her to be a fitting Apostle of the Press and she remained committed to it to the end.  Her life is an example of a woman who dared to break with the dominant stereotype of Victorian life by stepping into Catholic journalism. Hayes through her spirituality, struggles and literary influences turned a large part of her life's mission into 'the propagation of good books'.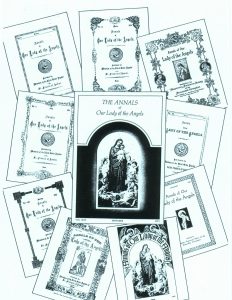 Hayes edited and published the world's first English Franciscan Journal.
Text, research and photos by Francine Shaw MFIC, PhD.