A Reflection on the "Short Testament" of St Francis.
Six months before Francis' death, his physical health was deteriorating so rapidly that the friars who were his companions feared that his death was approaching.  They asked him for his blessing and for a final message.  The message he dictated was simply that he wished to bless all his
 brothers at the present and into the future, and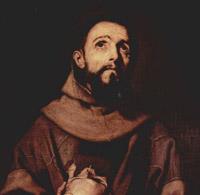 "as a sign that they remember me, my blessing and my testament, let them always love and respect one another, let them always love and be faithful to our Lady Holy Poverty, and let them always be faithful and obedient to the bishops and clergy of Holy Mother Church."1  Don't forget me!
In these words Francis names some of the essentials of the Franciscan way of life: loving and caring for one another, giving up all attachment to material things, and loyalty to the Church.
This heartfelt message from Francis reminds us of Jesus at the Last Supper, when after giving his apostles his Body and Blood in the bread and wine, he concludes "Do this in memory of me" or more simply "Don't forget me!"
We thank God for the gift of Francis.  We continue Francis' legacy by our care for one another, by our simple living, and by our efforts to repair and rebuild the Church.
Sp Perf 87