Francis and the Crib
Francis and the Mystery of the Incarnation
 The mystery of the Incarnation was a source of great wonder to Francis.  That God, the Lord of the Universe, should condescend to become one with creatures filled him with awe and delight.  This "self-emptying" of the Lord Jesus Christ1 became a motive for Francis' life of littleness and poverty.
Francis looked at Mary, too, and took his inspiration from her.  He loved her dearly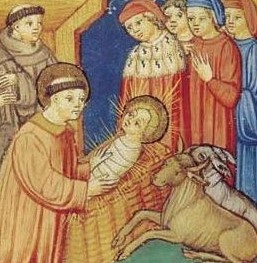 "because it was she who made the Lord of Majesty our brother". 2
A Dwelling-place for God
 In his first Letter to All the Faithful, Francis calls on us to live to the full the twofold command of love of God and neighbor, and he describes with joy the reward that will be ours.  This reward, of course, is the presence of God within us, "making a home and dwelling-place" with us.3
Francis and the Crib
 The story of Francis and the Christmas Crib is one we like to recall4.  It was Advent of the year 1223, and Francis was staying at the town of Greccio.   As Christmas approached, Francis wished to make the miracle of Bethlehem present to the people in a vivid and striking way, so he arranged for some villagers to enact a 'live crib' on the mountainside.  Brother Leo celebrated the Eucharist in this 'cave of Bethlehem'.
As we read the story, we are struck by the atmosphere of serenity and joy.  And we are told that at the moment of the consecration, the Christ Child appeared.
This reminds us of the way Francis loved to pray: he immersed himself so thoroughly in the Gospel story that Christ's presence was real to him.
Advent and Ourselves
Advent is approaching.  During this time we prepare to celebrate again the birth of Jesus.  Our preparations include choosing gifts, sending greetings, decorating our house, setting up the Crib.  Most important of all, we give special attention to making a dwelling-place for God in our hearts.
Philippians( ii, 7)
Celano, Second Life 198
Faithful I,6
Celano, First Life 84-86